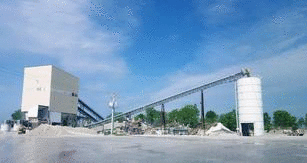 Welcome to Carthage Crushed Limestone
Carthage Crushed Limestone, in Carthage, Missouri, is centrally located in the Midwest conventiently providing stone supplies to our diverse range of customers throughout the United States. We specialize in industrial and agricultural minerals consisting of high purity limestone up to 95% calcium content coupled with a low silica content.
Our heritage is as robust as the high quality of our product. Initially founded in 1888, our company incorporated in 1926 as the Carthage Marble Corporation. At one time, we were the largest gray marble quarry in the world. In fact, our bluish grey tinted marble can still be found in Missouri's Capital building as well as in many of the federal buildings across this country.
Our business evolved following World War II, a time when we experienced rapid growth in the aggregate business due to the development of the new interstate highway building programs.
Today Carthage Crushed Limestone still supplies aggregate and fine grind limestone products that are used in building materials, for industrial uses and as a feed ingredient.
Carthage Crushed Limestone supplies product to a variety of major industries, such as glass, fiberglass, roofing products, clay targets, cast stone, animal feeds and fertilizer, to name but a few.
We look forward to continuing to grow with these industries and others as our current reserves well exceed 50 years.
Carthage Crushed Limestone is committed to its employees and the health and safety of everyone involved with our company. We strive to provide the highest quality products while leaving the smallest carbon footprint as possible.